The annual Moms and Media 2019 study, released by The Research Moms of Edison Research, reveals continued interest in technology both new and old, heavy internet usage and sustained social media engagement among Moms in the United States.
With data points drawn from the Infinite Dial series from Edison Research and Triton Digital, the latest installment, presented just in time for Mother's Day, shows how Moms in the United States continue to build their tech tool kit, using established devices like smartphones along with newer technologies such as smart speakers. Additionally, this year's report illustrates how the internet is crucial to Moms' media behaviors and consumption.
"Moms and Media 2019 highlights the ability of Moms to adopt new devices and technology and seamlessly blend it with their existing media habits.  As natural multi-taskers, Moms are well-equipped to balance and adapt behaviors that support their busy, mobile lifestyle, and we see that each year in our Moms and Media reports," noted Edison Research Vice President Melissa DeCesare, who is also one of The Research Moms at Edison.
Smartphone ownership among Moms continues to rise.  Powering Moms' mobile lifestyle, this device reigns as an essential to the tech tool kit.  Showing a slight increase over last year, 94% of Moms now own a smartphone.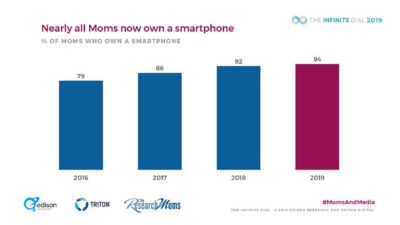 While Moms have been consuming content, engaging social media and communicating with smartphones for many years, they are showing great interest and making room in their tech tool kit for smart speakers.  Just getting on Moms' radar in the last year or so, now about one third of Moms own some type of smart speaker.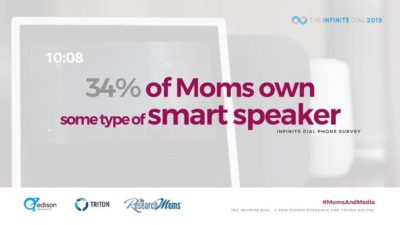 We see in 2019 more than ever that the internet is the engine of Moms' media consumption.  Heavy users spending about 4 hours daily using the internet, Moms are not limited to just listening to online audio and using social media.   Moms are invested in streaming video services like Netflix as well, and also continue their trend of watching YouTube specifically for music videos. This year shows an increase over 2018 in moms' daily time with internet of 24 minutes.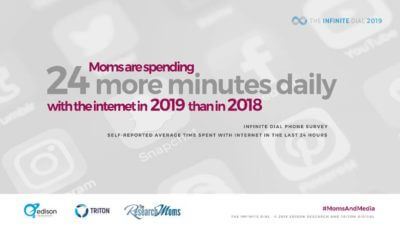 Pinterest continues grow in usage among Moms, showing a strong upward trend in the last few years.  Back in 2017, 47% of Moms used the site and in 2018 it was more than half of Moms, at 54%.  This year more than 6 in 10 Moms report using Pinterest.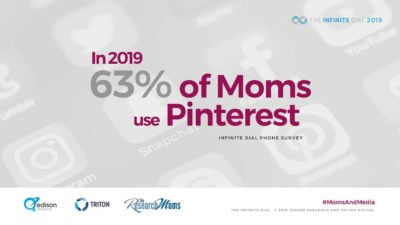 Historically, Facebook has always been a major factor in Moms' social networking.  Despite the downward trend in usage among total users 12+, Facebook remains strong among Moms with 81% reporting that they currently use the site.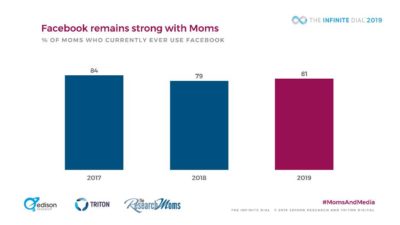 Where we see some Facebook fallout is for the social networking site used most.  Among moms who use social networking, 64% said they use Facebook most, which is down from where it was last year at 69% and 72% in our 2017 data.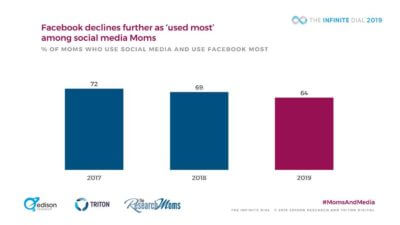 The full results of the Moms and Media 2019 study are available for download here.