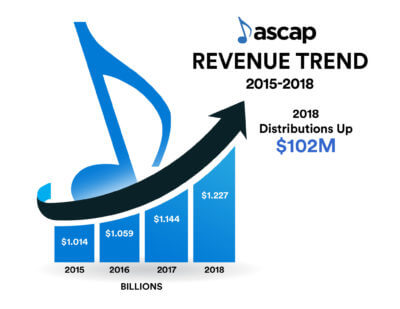 ASCAP, The American Society of Composers, Authors and Publishers, announced that its total revenues for 2018 topped $1.227 billion, an increase of 7% over 2017.  Additionally, ASCAP distributions crossed the $1 billion mark for the second year in a row, with $1.109 billion in royalties paid out to its songwriter, composer and publisher members. Distributions increased by $102 million, up 10% year-over-year.
ASCAP domestic revenue from US music licensing surpassed the prior year by 7% to hit $906 million.  Key licensing categories saw significant organic growth:  Audio Streaming revenue was up by 25% and Audio Visual by 7% year-over-year.  General and Background revenue, which encompasses more than 800,000 bars, grills, taverns, hotels, retail stores, fitness centers and other businesses, grew by 9%.
ASCAP secured a total of $321 million in 2018 foreign revenue, an increase of 7% over the prior year.  ASCAP's International Affairs team achieved this growth via in-depth engagement with collection societies outside of the United States.  Consistent distribution verification and third-party data analysis helped to ensure robust payments from key international markets.
Domestic distributions from ASCAP-licensed and administered performances in the US increased to $814 million, up 12.5% over 2017.  Foreign distributions totaled $295 million, an increase of 4%.
The number of individual music performances processed by ASCAP's proprietary data matching systems skyrocketed into the trillions in 2018.  Keeping up with this growth, ASCAP maintained its status as one of the most efficient PROs in the world, decreasing its operating expense ratio for the second consecutive year, with nearly 90 cents of each dollar collected going back to its music creator members.
ASCAP Chief Executive Officer Elizabeth Matthews said: "ASCAP's outstanding 2018 results were driven by our team's laser focus on making smart, strategic deals to yield growth and stability for our members.  Four years into our six-year strategic plan, we are seeing healthy year-over-year compound annual revenue growth rates averaging 7%.  In 2018 alone, our commitment to efficiency and innovation allowed us to pay more than $100 million more to our members in distributions than the prior year all while we continue to take the steps necessary to protect their future.  Above all, we owe our success to the popularity of the ASCAP music repertory, which is beloved and enjoyed by listeners around the world on every platform."
ASCAP Chairman of the Board and President Paul Williams said: "ASCAP members know that they belong to an organization that is always in their corner, whether we are nurturing their early careers, closing important licensing deals with music users or fighting for their rights in Congress.  2018 was a year of great progress for songwriters and composers with the passage of the Music Modernization Act.  As we go forward, ASCAP will continue to put its resources toward securing every dollar earned by our members and advocating to ensure that they can have a sustainable livelihood.  There is still more work to do to modernize music licensing laws and bring us closer to a free market and fair value for songwriters' creative work."
Digital Innovations
ASCAP advanced its innovation agenda further in 2018 with the introduction of interactive features that allow members to visualize their earnings across multiple pay periods, as well as a new member enrollment experience which simplifies the account setup process.  ASCAP also extended its innovation into the mobile space last year, launching a downloadable Mobile Pass that enables members to share information more easily with collaborators.
Member Success and Growth
Major music creators entered into agreements with ASCAP in 2018.  They included Migos, Cardi B, Alicia Keys, Louis Bell, Starrah, St. Vincent, Savan Kotecha, Greg Kurstin, French Montana, Miguel, Mike Will Made-It, Kehlani, Calvin Harris, Gucci Mane, Marco Antonio Solís, Goldlink, Meek Mill, Jared Gutstadt, Ashley Gorley, Joseph Trapanese, David Vanacore, James Taylor, Lil Uzi Vert, Lil Baby, Natti Natasha and the estates of Bob Marley and George Michael.  New members included songwriters Amy Allen (Halsey, "Without Me") and Scott Harris (Shawn Mendes co-writer) and film composer Tom Holkenborg (Junkie XL).  Total ASCAP membership increased by approximately 46,000 in 2018 and currently stands at more than 700,000 songwriters, composers and publishers.
On May 2, ASCAP will kick off the 14th edition of its signature ASCAP "I Create Music" EXPO event in Los Angeles, providing over 3,000 aspiring music creators with three days of panels, workshops, master classes, keynotes and one-on-one sessions with top industry hitmakers on what it takes to be a professional music creator today.  Special guests include Questlove, Wyclef Jean, Lee Ann Womack, Portugal. The Man, Victoria Monét (co-writer of Ariana Grande's "Thank U, Next" and "7 Rings"), TOKiMONSTA, Anthony Rossomando (co-writer of hit A Star Is Born theme "Shallow"), Matthew Koma and more.
The ASCAP 2018 Annual Report can be viewed at https://www.ascap.com/about-us/annual-report.