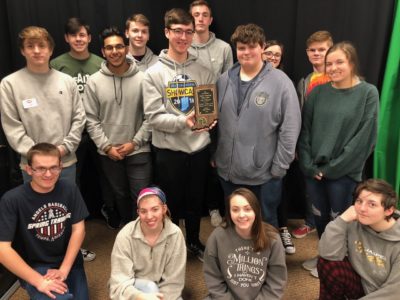 Jasper High School's Radio/TV 2 Class in Jasper, Indiana, and their student radio station WJWS-LP/93.7 The Scratch recently placed 1st in the radio imaging category of the Indiana Association of School Broadcasters contest. Benztown has made its imaging libraries available at no cost to the school for the last four years.
In sharing the great news, Evan Elrod, Jasper High School media teacher, told Benztown's Masa Patterson: "We really do pride ourselves on having good imaging, and there is a direct correlation to our annual success in this event, and when we signed on with Benztown! We placed 1st in the very first year we had the service! (Then 3rd, then 2nd, then 1st again!). So it's no exaggeration when I say we owe a lot of our success to the product you all provide. Thanks again for providing us such a great product to work with!"
Masa Patterson, VP, Sales & Operations, Benztown, said: "We've partnered with Evan and his students for a few years now and we are SO proud to be a part of their success. What they are doing with the station and class is fantastic for our industry and truly inspiring! "
With studios in Los Angeles, New York, and Stuttgart, Benztown provides high quality creative audio imaging workparts to over 1,200 broadcast radio stations and digital services worldwide, with 23 libraries across 13 music and spoken word formats including: AC, Hot AC, CHR, Country, Urban, Rhythmic, Classic Hits, Rock, News/Talk, Sports, and JACK.