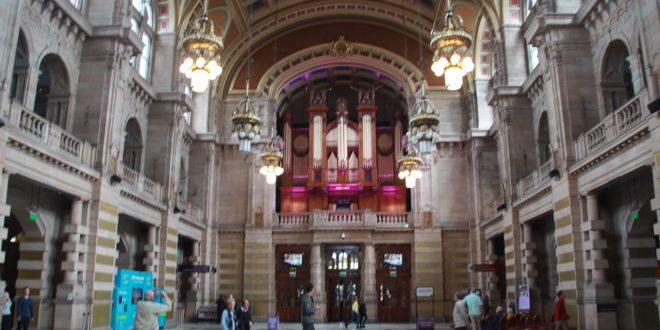 In the continuation of what has become an annual tradition for the University, the Morgan State University Choir is traveling abroad to share the gift of song. This year, the Choir is touring the United Kingdom (U.K.) with performance stops in Scotland and England.
Less then 24 hours after performing in Morgan's 2019 Spring Commencement undergraduate ceremony, members of the Choir packed their bags and left for the U.K., departing from Dulles International Airport on what turned out to be a very beautiful day with perfect weather for a flight abroad. The occasion marked the first time that any of the travelers in our 40-person group had ever flown the Irish airline, Aer Lingus, which was a necessity since we were flying through Dublin Airport in order to get to Scotland. It was a smooth departure and the flight went without incident.
When you're traveling from one part of the world to another sometimes it can be a challenge to properly dress for the weather in the two different locales. Leaving Baltimore, the temperature was nearly 80 degrees Fahrenheit, but by the time we arrived at our transfer location in Dublin, Ireland at 5 a.m. in the morning, the temperature was a frigid 45 degrees Fahrenheit. After we adjusted to the drastic weather change, the next adjustment we needed to make was from traveling across the Atlantic in a big jet and then transitioning to a smaller propeller plane to complete our journey. Despite a few concerns about our new mode of transportation, the one-hour flight to Edinburgh went surprisingly smooth.
We arrived into Edinburgh on Monday morning and met with our tour guide, Janet Sayers. It would have a perfect start for a new adventure, if not for two members of our party having their luggage lost and needing to file a claim. Lost luggage aside, we used our time before our hotel check-in to explore the local sites. The first stop was Scotland's largest city – Glasgow.
With a population of approximately 700,000 and about an hour drive from Edinburgh, Glasgow stood out visually with its many historic buildings, some of which adorned with rich displays of contemporary art. It was a stark contrast to the Brutalist "blocky" architectural style of the city overall. As part of our tour, we first visited Glasgow Cathedral, a member of the Church of Scotland denomination. It was the oldest cathedral in Scotland and the oldest building in Glasgow. We then drove to the National Transportation Museum of Scotland, we enjoyed tasty, traditional Scottish meal of Shepherd's pie (a potpie dish of lamb on the bottom and potatoes on the top).
From the cathedral, we journeyed over to Kelvingrove Art Gallery & Museum. Almost immediately, we were taken in by the quality of the artwork as well as the museum's eclectic collections, which included original works by Picasso, Rembrandt, Renoir, Dali, Matisse, and other masters on display. The free public museum also boasted an array of historic natural animal statues and historic artifacts, which unlike in their U.S. counterparts, we were allowed to record and photograph without interference from museum officials.
Leaving the gallery, we traveled to the National Piping Centre, a building dedicated to the history of the Scottish bagpipe, an item most foreigners associate with Scotland. As we entered the facility, we were greeted by a bagpiper, who attempted to get us in the "Scottish spirit" with a performance. After receiving a brief history from a museum employee, we were given a lesson on how to play the bagpipe. Following the lesson, we then had to demonstrate what we learned, which proved to be more difficult than you think. Playing the bagpipe may seem simple – squeezing and blowing – but it is tremendously difficult to maintain an even sound while actually making music. Following our impromptu bagpipe performances, it was back to Edinburgh to check in to our hotel. The remainder of the evening would consist of dinner and retiring to our rooms to recover from the exhausting first day.
Entering Piping Museum by Genuine Scottish bagpiper:
Dr. Conway attempts to play bagpipe: