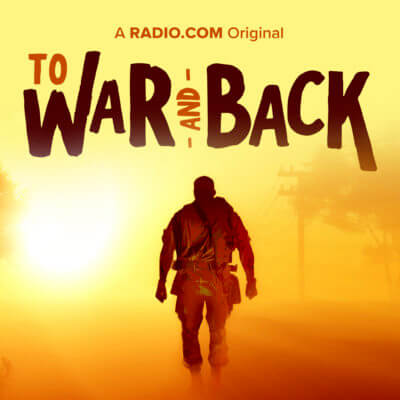 Entercom, a leading media and entertainment company and one of the two largest radio broadcasters in the U.S., and Cadence13, a leading premium podcast company, today announced the launch of "To War and Back", a RADIO.COM Original podcast series exploring the lives of three combat veterans and their journeys on the battlefield and on their return home. The full six-episode series will launch exclusively on RADIO.COM, the fastest-growing digital audio app in the U.S, on June 10.
"To War and Back"—a collaboration between Entercom and Cadence13 —features journalist and Navy veteran Phil Briggs, host of "Connecting Vets" podcast, traveling cross country to meet three combat veterans—US Marine Corps Sgt. Kirstie Ennis (Ret.), US Marine Corps Major Scott Huesing (Ret.) and US Army veteran Sgt. Boone Cutler—to document their incredible experiences, to war and back. From cheating death in Iraq and Afghanistan to surviving and fighting the battles they faced when they got home, the lives of these American heroes are inspiring and unforgettable. Briggs also speaks with the three veterans' friends and family members on "To War and Back", bringing their firsthand perspective of what it's like for a loved one to serve to the conversation.
"To War and Back" will launch on June 10, 2019, with all six episodes exclusively available at launch on RADIO.COM. In addition, a new episode will be released weekly everywhere podcasts are available. Listen to the trailer and subscribe to the series here:  https://app.radio.com/To-War-and-Back.
"From the moment I first heard about Kirstie, Scott and Boone, I knew I wanted to tell their story. As a vet myself, I didn't want to commercialize their combat, or glorify their scars, but I wanted the world to hear that you can find inspiration, even in desperation," said Phil Briggs, ConnectingVets.com. "Their stories show what being a combat vet can be like, and it's so much more than what we see in movies and on TV."     "We're proud to collaborate with our talented partners at Cadence13 on this original series," said J.D. Crowley, Chief Digital Officer of Entercom. "'To War and Back' is a perfect example of the power of audio storytelling to make a difference in the lives of listeners. Original series like this are also a key part of the growth path of RADIO.COM."
"'To War and Back' is an intimate portrait of the human spirit and a tribute to the bravery and perseverance of Boone Cutler, Kirstie Ennis, Scott Huesing and veterans everywhere," said Spencer Brown, CEO, Cadence13. "We are thrilled to partner with Entercom on the first of what we expect to be a number of RADIO.COM originals."
As a Marine Corps sergeant in Afghanistan, Kirstie Ennis was a helicopter door gunner whose leg ripped apart when the helicopter she was in crashed, resulting in the amputation of one her legs from the knee down in 2015. In the process of undergoing more than forty surgeries, she discovered a toughness and wisdom that motivated her to achieve things she never did on two legs—becoming one of the top ranked Paralympian snowboarders in the world—earning a USA Snowboard and Freeski Association National Title and competing for the USA in the 2018 Winter Paralympic Games. She's also come close to reaching her mission of climbing all of the "Seven Summits," the highest peak on each continent. Ennis recently attempted to reach the top of Mt. Everest, having already topped Mt. Kilimanjaro in Africa, the Carstensz Pyramid in Indonesia, and Argentina's Aconcagua on one leg.
US Army vet Sgt. Boone Cutler's combat experience began in the 82nd Airborne Division, and upon completion of his enlistment with the 505th Parachute Infantry Regiment he moved to Southern California. After 9/11, he requested immediate activation and was assigned to the 301st Tactical Psychological Operations Company, where he was tasked with defeating insurgents in the deadly area of Sadr City, Iraq. Cutler's daily combat missions resulted in sustained severe head trauma and other injuries from a mortar blast. While at Walter Reed Army Medical Center, Cutler endured two years of rehabilitation that included heavy prescription drug therapy, commonly known as the "Combat Cocktail." He credits his recovery from several near-death episodes to medical marijuana, CBD oil and a rare stem cell therapy he discovered. Cutler remains an activist for these treatments today and is the founder of The Spartan Pledge, which works to eliminate the veteran suicide epidemic. He is the bestselling author of Voodoo in Sadr City and a radio personality in Reno, Nevada, holding the honor of being the first nationally recognized radio talk show personality who is also a combat veteran from the current war.
USMC Major Scott Huesing is a retired Marine Infantry Major with over twenty-four years of service, both enlisted and as a commissioned officer. His career spans ten deployments and he conducted operations in over sixty countries worldwide. During his numerous deployments to Iraq, Afghanistan, and the Horn of Africa, Huesing planned, led, and conducted hundreds of combat missions under highly austere and challenging conditions. Upon returning home, Huesing faced and overcame struggles with alcohol and substance abuse. He is the bestselling author of Echo in Ramadi and serves today as the Executive Director of Save the Brave, a veteran support non-profit organization which specializes in helping combat veterans heal through outdoor excursions.
Navy veteran Phil Briggs served as a military photojournalist on the aircraft carrier USS John C. Stennis (CVN-74) during the 1990s. As a Stennis "plank owner," Briggs documented fighter jet flight operations and the stories behind the scenes of one of our nation's most feared war ships. After the Navy, Briggs was a rock radio morning show host and began hosting podcasts for the military veteran website ConnectingVets.com.
Entercom's ConnectingVets.com is a team of veterans and military family members dedicated to connecting vets to stories of inspiration and perseverance, while bringing them closer to the things they care about like benefits, education, jobs and resources. In addition to producing the "Connecting Vets Report" and "VetStory" podcasts, they've also partnered with CBS to produce "CBS Eye on Veterans.​" Connecting Vets broadcasts on 95.5 (WPGC-HD3) in Washington D.C., at ConnectingVets.com, and on the RADIO.COM app.
RADIO.COM is Entercom's integrated digital platform where consumers discover and connect live with premium, curated content powered by over 235 highly rated, locally programmed radio stations and their websites, thousands of premium podcasts, audio on demand, and exclusive content across entertainment, music, news and sports.