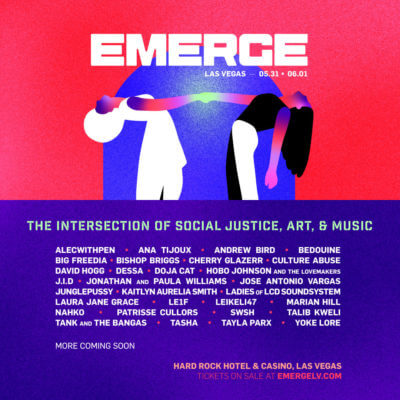 Emerge, the festival where social impact and music intersect, is announcing several headliners for its unique showcases May 31 and June 1st at the Hard Rock Hotel in Las Vegas.
"Emerge highlights how music and social action inform and support each other," says festival founder Rehan Choudhry. "Our headline artists and speakers show how powerful it can be when well-established and popular figures commit to making a statement, and the inspiration that can provide for audiences and for movements. They all share a passion for social movements and have cultivated a very personal point of view on what's happening today. Their music is a vehicle to express this perspective."
Brandon Flowers from The Killers, whose set will include a compelling performance of the band's anthemic, passionately critical "The Land of the Free," complete with full choir. He'll be joining the Protest showcase as we explore modern-day protest movements.  Flowers will be joined by Talib Kweli, Ana Tijoux, Nahko, and Tank and the Bangas, as well as speakers from March for our Lives like David Hogg, and Emma Gonzalez.
Whitney Bell, a fearless voice from the feminist activist movement who dedicates much of her work to lifting up women's stories. Bell will act as curator for the Saturday afternoon showcase featuring an all-female lineup of speakers and performers.
Along with these names, the festival is also announcing Luna Aura, whose frank exploration of women's sexuality is coupled with a keen instinct for hooky songwriting, and The Dose, the grunge-inflected power duo.
"We've focused on emerging voices and have foregrounded them as we've unveiled our programming for the festival. Now we want to give the amazing established artists their due and provide a platform that lets them amplify their message in new, creative ways," explains Emerge's Kastoory Kazi.
In the history of modern progressive and protest movements, the message has been in the music, inspiring the music, while the music shapes the message. "Protests and movements are filled with the same intensity and energy that music festivals once had, that power to galvanize people and encourage them to change their lives and communities," Choudhry notes. "Our speakers and performers share stages, in a deliberate push to give this combined energy room to grow."
Emerge Festival
Hard Rock Hotel, Las Vegas
May 31-June 1, 2019
Full schedule and details: emergelv.com/
Emerge is structured differently from most music or ideas festivals. The heart of the event are three four-hour showcases that weave words, music, movement, and visuals into a unified, experience all festival goers can share without missing other elements of Emerge.
The main showcases center on loose but evocative themes. A short and sweet overview of the festival's schedule gives a glimpse of Emerge's unique approach.
Friday, May 31
Industry Panels (11 am-5pm): lively discussions on diversity and representation, Las Vegas culture, and social activism
Protest (5-9pm): The art of standing up and speaking out
With Brandon Flowers, Emma Gonzalez, David Hogg, Talib Kweli, Ana Tijoux, Nahko & the Medicine for the People, Tank & the Bangas
HopeXHuman (9pm-12am):  Pairing craft cocktails and meaningful causes
With Bishop Briggs, Marian Hill, The Ladies of LCD Soundsystem, and Yoke Lore
Late Night Session (12-1am) with Doja Cat, Culture Abuse, Luna Aura, and Dose
Saturday, June 1
Self/Sex (10am-2pm): Living our truth, challenging our mores
With Big Freedia, Junglepussy, Leikeli47, Kaitlyn Aurelia Smith, Dr. Zhana, Alecwithpen, Jonathan & Paula Williams, interwoven with dance and movement
Women, Wellness, and Reclamation with Whitney Bell (2-5pm): Exploring the many shades of female identity
With Swsh, Bedouine, and Tayla Parx
Brave (7-11pm) Turning fear into courage in tumultuous times
With Dessa, J.I.D., Laura Jane Grace (performance and talk), Andrew Bird, Weldon Angelos, Patrice Cullors (Black Lives Matter), Jose Antonio Vargas
Depressed Monsters Session (10pm-1am): LV artist collective takes the reins
With Le1f, Cherry Glazerr, Hobo Johnson, and Ryan Brunty
Lineup and schedule subject to change.