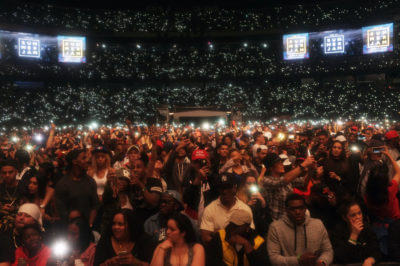 In 10 days, some of the biggest names in Hip Hop will converge upon the tri-state to perform at the hottest concert of the year: HOT 97 Summer Jam. Produced by HOT 97 WQHT-FM, #1 for Hip Hop, this year's Summer Jam performers include Grammy Award-winning artist and Bronx native, Cardi B, rapper, songwriter, and activist, Meek Mill, two-time platinum selling Hip Hop group, Migos, singer-producer, Tory Lanez, XXL Magazine Freshmen alum, A Boogie, and more. Taking place on Sunday, June 2, 2019, at MetLife Stadium in East Rutherford, New Jersey, Summer Jam is the event of the year where historic moments are made and Hip Hop music & culture are celebrated. Additional performers include Rich the Kid, Funk Flex & the Heavy Hitters, Davido, Casanova, Melii, City Girls, Megan Thee Stallion, and Kash Doll, as well as numerous surprise guests, a staple element of Summer Jam. Tickets are on sale now at hot97.com/summerjam and all Ticketmaster platforms.
In preparation of the big event, HOT 97's on-air personalities are sharing tips and transit advice to ensure guests are adequately prepared and can have a stress-free experience.
Getting to MetLife Stadium
Driving – MetLife Stadium is easily accessible from all major routes in northern New Jersey, including the New Jersey Turnpike/I-95, the George Washington Bridge, the Garden State Parkway, and I-80. Parking lots open at 2:00 p.m. The only way in is with your Summer Jam ticket. For more information, directions, and parking fees visit metlifestadium.com.
"A lot of people prefer to drive to the concert because they want to set-up the grill and have some fun with their friends before going inside," states Ebro Darden, host of Ebro in the Morning. "It's a party, and we love it. Just make sure you line-up on-time when those Stadium gates open so that you don't miss the party inside."
Public Transportation – The Meadowlands Rail Service delivers guests directly to the front door of MetLife Stadium. Trains leave from Secaucus Junction and the Hoboken Terminal, both located on the NJ Transit Line. For more details on the NJ Transit Line click here. For additional information on Park and Ride, MetroNorth, and Bus Service, visit metlifestadium.com.
"Understandably, many New Yorkers and New Jerseyans rely on public transportation, and HOT 97 gets that," states TT Torrez, host and Music Director of HOT 97. "That's why we produce a show that allows our guests to travel via NJ Transit, coming right into and leaving right out of the station at MetLife Stadium. Having that option available allows more of our listeners easy access to Summer Jam."
Rideshare Services – As the official rideshare partner of MetLife Stadium, there is a designated Uber Zone located in Lot E off of West Peripheral Road, right outside of the Verizon Gate. When you request a ride from MetLife Stadium, your pickup location will default to a pin in the official Uber Zone. More information available on metlifestadium.com.
Tips for Experiencing Summer Jam
"Ladies, don't wear heels," advises Laura Stylez, co-host of Ebro in the Morning. "Just, don't do it. I know you want to look cute but you're going to be standing and dancing for like six, seven hours. Get some fly kicks to go with your outfit instead."
"Drink plenty of water and bring a hat or sunscreen with you," says DJ Enuff, host and Mixshow Coordinator of HOT 97. "And bring an extra pair of socks. You'd be surprised how revitalizing it is to simply change into a fresh pair of socks!"
"Don't make the mistake I did one year by choosing cute instead of comfort," says Jen from BK, host and Social Media Manager of HOT 97. "I wanted to look cute and wear these sandals. Unfortunately, by the middle of the day, my feet looked like they were run over by a car. Also, don't cake on the make-up unless you plan on bringing tons of sheets to wipe the oil off of your face because it will get hot in the sun. Umbrellas are not allowed in the venue so bring your own poncho just in case!"
Trippie Redd kicks off the Festival Stage at 4:00 p.m. alongside City Girls, Blueface, Melii, Nicole Bus, and G4 Boyz. The Festival Stage is the premier platform emerging artists perform on during the Festival Village experience before the Stadium show. For more information on Summer Jam, including a final chance to win tickets to the concert at upcoming HOT 97 events across the tri-state, visit hot97.com/summerjam.