As a federally-funded Tier 1 research center through the Fixing America's Surface Transportation (FAST) Act, Morgan State's Urban Mobility & Equity Center (UMEC) is at the forefront of forward-thinking analysis and examination of urban mobility spanning transit, infrastructure, access creation, smart cities and system integration. Recently, a team from UMEC had the opportunity to present findings from its extensive audit of transit automation at the University Transportation Centers (UTC) Spotlight conference held in Washington, D.C., during Infrastructure Week.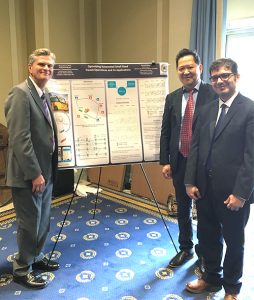 (From left) UMEC Director Dr. Andrew Farkas, Dr. Young-Jae Lee and grad student Amirreza Nickkar
This year's conference included a series of poster sessions from well-known universities at the House and Senate Office Buildings. Morgan's UMEC project entitled "Optimal Automated Demand Responsive Feeder Transit Operation and Its Impact," was selected from among the featured UTC projects at the conference.
Dr. Young-Jae Lee, associate professor and Graduate program coordinator in the Department of Transportation and Urban Infrastructure Studies and Amirreza Nickkar, graduate student from the Clarence M. Mitchell, Jr. School of Engineering, presented their study on shared automated transit systems. Attending staffers from the U.S. Senate and House of Representative asked questions about the implementation and usability of this innovative and emerging system. The analysis of automated transit systems has become a hot topic for researchers in recent years, as other universities presented related work on this subject at the conference as well.
Morgan's study aimed to provide the next generation of demand-responsive transit systems, which would be particularly helpful in suburban and rural areas where people cannot easily access public transit and first/last mile travel present significant challenges. The proposed automated transit system may increase equity, especially in underserved areas, and decrease reliance on private transportation, ultimately saving energy and decreasing emissions.
Dr. Farkas, director of both the National Transportation Center and the Urban Mobility & Equity Center at Morgan, also attended the conference taking the opportunity to dialogue and interface with other UTC directors.
"This gave us a chance to show the return on investment the federal government receives for funding this type of research," Dr. Farkas said. "We also presented our research to the people who will be developing future transportation policy."
Headquartered at Morgan, UMEC is a cooperative research consortium that also includes the University of Maryland and Virginia Polytechnic Institute and State University (Virginia Tech). UMEC focuses on research to improve urban mobility of people and goods in an environmentally sustainable manner.