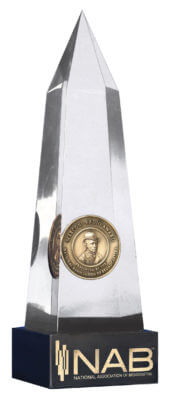 The National Association of Broadcasters (NAB) announced today that it will accept nominations for the 2019 NAB Marconi Radio Awards until May 31. The Marconi Radio Awards recognize overall excellence and performance in radio.
Stations and on-air personalities may nominate themselves in the categories of "Station of the Year by Market Size," "Station of the Year by Format," "Personality of the Year by Market Size," "Legendary Station," and "Best College Radio Station of the Year," which has been renamed from "Noncommercial Station of the Year." Nominations will also be accepted for new awards categories of "Legendary Manager of the Year" and "Best Radio Station Podcast."
Syndicators and affiliates may also submit nominations for the category of "Network/Syndicated Personality of the Year."
"For three decades, the Marconi Awards have honored broadcast stations, industry leaders, programmers and on-air talent for their tremendous work in entertaining and informing tens of millions of listeners across the country," said NAB Executive Vice President of Strategic Planning and Industry Affairs Steve Newberry. "We are excited to bring new changes to the awards that recognize radio's continuing innovation and evolution."
Nominations must be submitted online. Entry rules can be found here. Finalists will be announced in July.
On September 26, the winners will be announced during the NAB Marconi Radio Awards Dinner & Show at the Radio Show, produced by NAB and the Radio Advertising Bureau, held in Dallas (September 24-27).