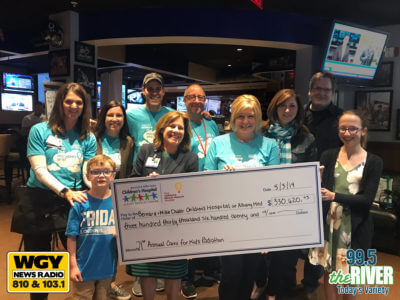 iHeartMedia Albany's News Radio 810 & 103.1 WGY, The Capital Region's Breaking News, Traffic & Weather Station, and 99.5 The River, The Capital Region's radio station playing Today's Variety, raised over $330,000 during the 21st annual Cares for Kids Radiothon. Funds will benefit Bernard & Millie Duker Children's Hospital at Albany Med, the local Children's Miracle Network Hospital.
The 25-hour live radio broadcast took place at Albany Med's Patient Pavilion atrium on May 2 and 3, where on-air personalities Chuck and Kelly from News Radio 810 & 103.1 WGY, and Kevin and Tracy from 99.5 The River encouraged the local community to support the hospital's pediatric health care programs. Throughout the radiothon, more than 15 families shared inspirational stories of hope and healing.
An additional $9,000 was raised with pre-events in the month leading up to the Cares for Radiothon.  These events included a comedy show, as well as exclusive acoustic concerts featuring Brent and Zach from rock band Shinedown, and Marc Roberge from O.A.R. Every dollar raised supports programs and services at the children's hospital, the only one of its kind in the region.
"iHeartMedia Albany has partnered with the Bernard & Millie Duker Children's Hospital at Albany Med for 21 successful years," said Kristen Delaney, Area President for iHeartMedia Albany. "This is a tremendous event which gives us the opportunity to introduce some incredible kids to our listeners and share their stories of healing and recovery.  We are overwhelmed by the generosity of our listeners."
The Children's Hospital treats all children regardless of their ability to pay.  This year's radiothon also benefited from the support of more than 150 volunteers who answered the phone banks and processed donations.
iHeartMedia Albany is the leading media outlet in the market with multiple platforms, including its broadcast stations; live events; data; and its digital businesses and platforms, including mobile, social and its own iHeartRadio, iHeartMedia's free all-in-one digital music, podcasting and live streaming radio service – with more than 2 billion app downloads and 125 million registered users.