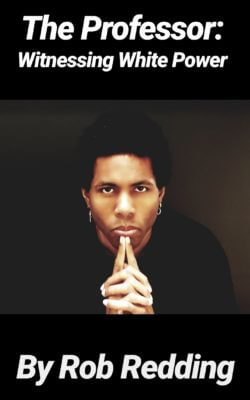 Nationally syndicated talk host and professor Rob Redding's new hard hitting book on gays in black leadership yesterday topped two of Amazon's coveted lists of new books.
His new controversial book "The Professor: Witnessing White Power" reached No. 1 on Amazon's "New Releases in LGBT Literary Criticism" and "New Releases in Gay & Lesbian Literary Criticism."
The Professor, which details how gay interracial relationships and encounters have shaped black power, dissects the sex lives of Jean-Michel Basquiat, James Baldwin, Marvin Gaye, Richard Pryor and Malcolm X. It contains explosive new information about Basquiat's relationship with Klaus Nomi.
"Much of the book works from Jane Ward's book 'Not Gay: Sex between Straight White Men'" Redding said. "Ward, who is a lesbian, writes about power exchanges between white men. The Professor explores how gay interracial relationships and encounters may have empirically had an impact on the black community."
Redding's – the first out bisexual black radio talk show host – national talk show is listened to by a black mainstream audience in 20 states. He has taught at Pace and City Tech universities in New York City. And has published "Black Voices, White Power: Members of the Black Press Make Meaning of Media Hegemony" in the Journal of Black Studies in 2017.
He just rattled off his ninth best-selling book, a biography entitled "Out Loud." That book peaked at No. 2 on Amazon in 2017 and was called "shocking" by CBS and "Juicy" by GAYLETTER.
His last No. 1 was "Why Black Lives Matter: How Borigination explains how to get police and whites to treat blacks like people in 2015" and "Not a Nonviolent Negro: How I Survived Obama" was released in 2013.
Redding has grown his audience far beyond his six years at SiriusXM and numerous stations including: WAOK-AM in Atlanta; WURD-AM in Philadelphia; WERE-AM in Cleveland: Green 960-AM in San Francisco; and KKXX-FM in California. Industry trade Radio Online lauded his current subscriber only talk show "Redding News Review Unrestricted" as having an "impressive base." The show helms from his award-winning Web site, ReddingNewsReview.com, a leading source for black news on the Internet for going on 20 years. He has won an award from the Associated Press and three consecutive Black Web Awards.
He also been featured in Upscale magazine; won an ADDY award; named one of "The 100 Most Important Radio Talk Hosts in America" by Talkers magazine; profiled as an "Industry Leader" in radio by Allaccess.com; and has received a proclamation from the Atlanta City Council for his work.