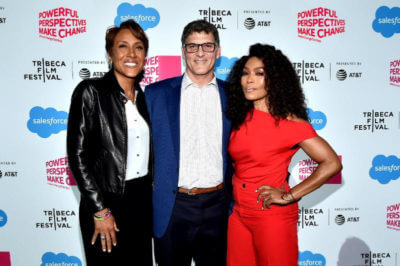 WHEN: Tuesday, April 30th
WHERE: Tribeca Film Festival Hub | Spring Studios, 50 Varick St. | New York, NY
WHO: Robin Roberts, Angela Bassett, Brad Lichtenstein, Jane Rosenthal, Paula Weinstein
WHAT
: The fourth event in Salesforce's Make Change series hosted in partnership with Tribeca Film Festival and presented by AT&T celebrated storytelling as a platform for change. The event featured actor Angela Bassett in conversation with
Good Morning America
anchor Robin Roberts. The two were later joined by filmmaker Brad Lichtenstein to discuss how virtual reality is helping to shape new perspectives on the world and create positive social change. The event also featured a virtual reality screening of the short documentary film
Ashe '68
, which explores and celebrates the life of groundbreaking tennis champion and civil rights activist Arthur Ashe.
WHY: Salesforce believes that the business of business is to improve the state of the world. In its Make Change event series, Salesforce brings together executives and storytellers committed to making a positive social impact.
The evening raised funds for the USTA Foundation's National Junior Tennis & Learning program, founded by Arthur Ashe, Charlie Pasarell, and Sheridan Snyder and celebrating 50 years of serving under-resourced students across more than 300 chapters.