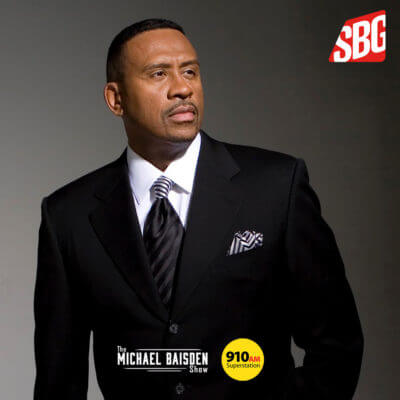 Sun Broadcast Group (SBG) announced that its very popular Michael Baisden show is returning to Detroit on 910AM Superstation from 5:00 pm – 7:00 p.m. Monday through Friday, beginning Monday, May 6, 2019, under a new agreement. The Michael Baisden Show is four hours of music, engaging content, daily thought-provoking conversation and is the premier destination for listeners to be entertained, inspired and educated. Voted one of the most influential men in radio, Baisden's voice activates real change through the show's slogan, One World, One Mic, One Love.
"I'm excited to bring Michael Baisden back to the State of Michigan on 910AM Superstation, the full power station with 50,000 watts, because we do a super job," says 910AM Superstation CEO Kevin Adell.
Michael Baisden added, "My passion for people and radio has never been greater! I look forward to hosting more events and engaging the Detroit family each and every day! Now, let's get this Grown Folks Party Started! Baisden Is Back!" 
Rich O'Brien, VP Programming and Affiliate Relations for Sun Broadcast Group adds, "we are so happy to be back in Detroit with this show. The content really fits Michael's Michigan audience and fans and having 910AM Superstation as a new partner to feature the show will definitively open the doors to some great projects in this market".