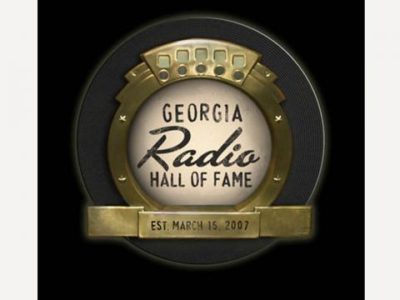 Bert Parks – While many will know that his career included a 24 year position as the host of the Miss America Pageant and the singer of the pageant's trademark song "There She Is, Miss America" they may not know that both his singing talent and emcee work began at age 16 in Atlanta, Georgia. A singing contest winner at 16, got him noticed and work at WGST as both a singer and announcer. He kept this work until his graduation from Marist Preparatory School. He would move to New York at age 17 to work at CBS radio as an announcer for numerous popular shows of the day and travelled with the Big Bands of Tommy Dorsey and Glenn Miller serving as an emcee for these shows, which were often broadcast. Bert Parks would go on to also host game shows on radio and moved with those to Television in the late 1940's. Bert Parks many talents and long career are well deserving of induction in the Georgia Radio Hall of Fame.
Paul Burke Johnson, Sr. – Atlanta radio listeners remember the "Burke Johnson Show" and the phrase "A good tempo, with a great flow". This former Army Veteran found a home and an impressive radio career in Atlanta, Georgia. Beginning at America's first Black owned radio station, WERD he started a radio career that was legendary. His work caught the ear of WAOK owner Zenas "Daddy' Sears who hired him to bring the Burke Johnson Show to the station for many years bringing the music of the 1960's to the listeners of his show. Burke Johnson also brought in studio interviews to his audience with luminaries Martin Luther King, Jr., Sidney Portier, Ray Charles, and Count Basie. Famous stars not only visited with Burke Johnson on-air but also at his home. The Isley Brothers, James Brown and Moms Mabley enjoyed his hospitality. Burke Johnson became the Program Director of WAOK in the 1970's and left in the mid-70s to work for Motown promoting artists for the label. In the 1980's Burke Johnson hosted "Inspirations Across America", the first Black syndicated contemporary Gospel program on the air in the United States. His service to our country and the radio industry is certainly deserving of recognition and honor by the Georgia Radio Hall of Fame.
Sean Demery -Sean's career began in his college days in 1976 in Mission Viejo, California with moves to stations KIOY in Fresno, California, where he took his air name of Sean Demery from the Fresno phone book and used throughout his successful and inspirational career. His Music Director talent helped that station to number one in the ratings. He also worked at stations in San Diego, Salt Lake City, San Antonio and then to Atlanta in 1989 to WAPW better known as Power 99. In 1991 Power 99 became 99X and Sean positioned the station musically until 2000. He returned to the station to join Leslie Fram as a co-host of the morning show in 2006 for a year. He then returned to the west working at stations and consulting until his death from complications from a stroke. He impacted Atlanta radio in a big way by helping create the legendary sound and brand of 99X.
Bill Duncan – An Atlantan born at Crawford Long Hospital was known by listeners from his work at WSB-FM, WPLO, WFOM, Y-106, WCNN, and to listeners in Douglas, Georgia from his work at WDMG. He also was a talent working at WAPE "The Big Ape" station in Jacksonville, Florida. A great radio personality and production talent who kept listeners entertained for many years he also used the air name of Roger Clark. His talents were not just in radio, he was also known for his talent for playing the guitar.
Mike Ventura – Mike Ventura launched his company, Ventura & Company in 1993 after a distinguished career with two radio broadcast groups. In his senior management role with these companies he guided his stations to great revenue success. He also became known for creating unique promotional marketing and brand partnership concepts in radio. This laid the foundation for his company being created and bringing the partnership programs to an impressive list of clients including Belo Broadcast Group, Cox Television Group, Coca-Cola, Fox Sports South, Toyota, Georgia Tourism, Chevrolet, Miller Beer, and numerous major market TV stations, newspapers, and Fortune 500 Brand marketers.
Atlanta radio listeners will also be pleased to hear that these Atlanta radio personalities and professionals have been nominated for Career Achievement Award induction:
Ron Parker – formerly at WQXI and Z-93 and in 2017 debuted on Chicago's WLS-FM Bob Houghton – President of the Georgia Association of Broadcasters
Jamal Ahmad – WCLK
Dr. William Gay – Clark Atlanta University Radio
Bob Coxe – News Anchor at Cox Radio for 23 years and recently retired Sabrina Gibbons – WSB
Dwight Douglas – former programmer of WZGC and retired RCS executive Tim Johnson – formerly of WFOX and WPCH-FM
Rene Miller – Smooth Jazz WJZA
Youngblood – KISS 104.1 host of Spotlight Gold
Brian Wilson – nationally known radio and television host who worked at CNN and WZGC Joyce Littel – V-103 Quiet Storm
From Athens, Georgia
Loran Smith – Georgia Bulldog sideline reporter and Georgia Radio Network Tim Bryant – WGAU News Director and correspondent for WSB
From Gainesville, Georgia Ken Stanford – WDUN Joel Williams – WDUN
Around the state of Georgia
Sanders Hickey – Brunswick – Partner Golden Isles Broadcasting Mary Therese Griffin – Macon – author and heard on Fox 94.7
The Career Achievement nominees are voted upon by the membership of the Georgia Radio Hall of Fame. Voting for these awards will begin on July 1st by the membership. Final results of the voting and announcement of those who will be inducted will be announced at the annual Awards Dinner on October 26, 2019. For information on how to join the organization and vote please visit www.grhof.com.